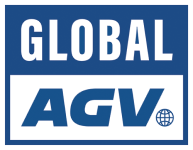 Goliath is proud to present its range of AGV equipment, custom designed to meet your specific load handling & transport requirements. Goliath works with Global AGV, the best in this specialist field whose project experience and expertise offers you the assurance of a perfectly concieved & delivered product handling / transport solution every time.
The AGV is a fully automatic and cost-effective system that transports all product types without human intervention – the obvious way to increase efficiency and profitability.
Using On-board computer & customer Wi-Fi Network, the AGV is perfect for repetitive handling tasks within or between the cleanroom, production, coldstore or warehouse areas and is perfectly suited for multishift and 24/7 operation. Global AGV's are equipped with the latest cutting edge software programs that communicate perfectly with your ERP, warehouse management or host system.